Location: Northern Ireland
Website: www.gbflyfish.com
Email: gbflyfish@talktalk.net
Phone: +44 (0) 28 9210 8536
Mobile: +44 (0) 78 2897 6548
Gary provides casting tuition with Single and Double-handed rods (from beginner to advanced level) incorporating the use of DVA (Digital Video Analysis).
He also Guides on the lower and upper Bann, Mourne and various other rivers and lakes in Ireland, included in his Guiding is river craft and entomology.
Gary has also demonstrated Fly Dressing at the CLA Game fairs and Chatsworth Angling Fairs. He also runs fly tying classes and ties Flies to order.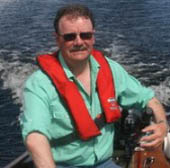 Location: Co. Antrim, Northern Ireland
Email: samandrews100@hotmail.com
Phone: +44 (0) 78 8942 3965
Expert yet relaxed casting tuition at your pace. Rods & reels etc supplied.
RYA qualified boat operator offering Guided Angling for Dolloghan trout and Salmon on Lough Neagh & its tributaries.
Dry-fly fishing for river trout and 'May-fly' angling for fabulous wild trout on Lough Erne.